Permanent Offices
CALL BRET ANDRUS OR BILL ANDRUS FOR A FREE QUOTE ! TEL:

310.538.0333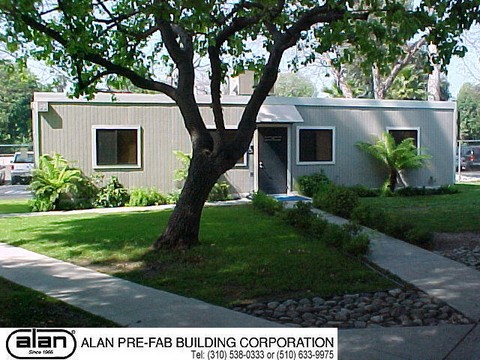 QUICKLY DELIVERED FULLY ASSEMBLED FOR ATTACHMENT TO PERMANENT FOUNDATION
CRANED OR FORKLIFTED ONTO FOUNDATION
QUICK ATTACHMENT WITH CONCRETE WEDGE ANCHORS
UTILITIES STUBBED OUT FOR SITE CONNECTIONS
USUALLY BUILT AS 'NO FLOOR' UNITS USING SLAB AS FLOOR
CALIF. STATE APPROVED, FULLY ENGINEERED FOR BUILDING PERMIT APPLICATION
CALIF. HCD CERTIFIED PREFAB COMMERCIAL MODULAR BUILDINGS CAN BE INSTALLED ON PERMANENT FOUNDATIONS FOR A FULLY CODE CONFORMING PROJECT. THE ADVANTAGE IN USING AN ALAN BUILDING IS WE TAKE CARE OF THE PLANS AND ENGINEERING FOR THE BUILDING PORTION SO YOU DON'T HAVE TO HIRE AN ARCHITECT JUST TO GET A CONSTRUCTION ESTIMATE. AT A MINIMUM, OUR BUILDINGS DESIGNED FOR PERMANENT INSTALLATION ARE CONSTRUCTED ENTIRELY OF GRADED LUMBER, WITH A 4X6 PRESSURE TREATED BOTTOM SILL PLATE WHICH PROVIDES A STRONG MEMBER TO ATTACH THE BUILDING TO THE FOUNDATION WITH STEEL PLATES AND LAG SCREWS. 5/8" PREMIUM T-111 WOOD SIDING, PAINTED WITH ACRYLIC LATEX ENAMEL. SINGLE PIECE .024" ALUMINUM ROOF WITH PLYWOOD DECK UNDERLAYMENT. FIBERGLASS BATT INSULATION. 1/4" GENUINE BIRCH WALL PANELING, 1/2" GYPSUM DRYWALL CEILING. 3'X6'8" HOLLOW METAL DOORS WITH WELDED ALUMINUM FRAME, 18"X18" LITE AND DEADBOLT LOCK. ELECTRICAL WIRING IN #14/ #12 COMMERCIAL MC METAL SHEATHED CABLE. LOW PROFILE FLUORESCENT LIGHTS WITH PRISMATIC DIFFUSERS.
Sizes are generally up to 13'6"x50' for a single wide structure and 27'x40' for a double wide structure.
Alan Buildings permanent modular buildings are custom designed and priced for the specific application.
OPTIONS: A/C-Heat, restrooms, partitions, roof overhangs, drywall interior walls, Exterior lighting, counters, over-sized windows, Dual glazed windows, steel exterior, Stucco exterior, aluminum exterior, sliding glass doors, vinyl floor tiles, carpet, one hour fire rating, wUI fire rating (Wildland urban interface fire rating).
The Low Cost Solution To your Space Problems