Alan Guard Stations & Security Booths
CALL BRET ANDRUS OR BILL ANDRUS FOR A FREE QUOTE ! TEL:

310.538.0333

OR FOR STANDARD MODELS, PLACE ORDER ONLINE ORDER FORM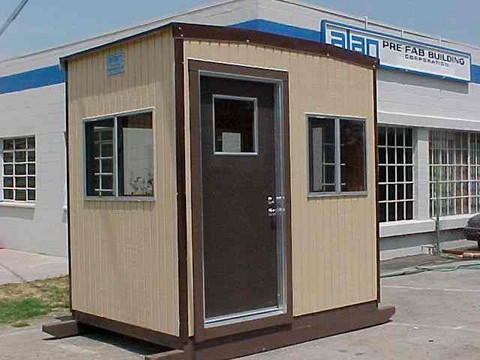 SKIDMOUNTED, RELOCATABLE, PORTABLE BUILDING
PAINTED TEXTURE (T1-11) EXTERIOR SIDING
QUICKLY DELIVERED FULLY ASSEMBLED (no on site construction)
STANDARD SIZES FOR RENT OR PURCHASE. CUSTOM SIZES FOR PURCHASE
FULL VISIBILITY
FULLY FINISHED WOOD GRAIN PANELLED INTERIOR
LONG WEARING, DECK PAINTED, PLYWOOD FLOOR
INSULATED (WALLS AND CEILING)
LOW PROFILE ROOF DESIGN
ELECTRICAL OUTLETS AND FLUORESCENT LIGHTS
AVAILABLE WITH AIR-CONDTIONING/HEAT




Alan's skid mounted guard stations are easily relocatable with a forklift, so they can be where you need them, when you need them. The most popular sizes are 4'x6' and 6'x8' and custom buildings are available for purchase in other sizes. Added features such as roof overhangs, dual glazed windows, window guards, sliding glass doors, data jacks, exterior lighting, and outside counters are available on custom buildings.

Standard Guardhouse sizes are 4x6, 6x8. The 4x6 Guard Station is also available standard as an unfinished, uninsulated interior for our lowest priced solution to your guard station requirements.

DELUXE FEATURES:
Skidmounted building, forkliftable. T-111 painted wood siding, Low Profile roof. 3/4" plywood floor. 1/8" VC tiles. Aluminum sliding windows. Steel door with keyed lockset. Birch wall paneling, 1/2" drywall ceiling, insulation in the walls & ceiling, fluorescent light fixtures, duplex outlets, electrical sub panel. All Guard Houses have a 16" counter across one wall set at 40" above floor. Wall mounted air conditioner / heater units available as an option, or we will frame and wire for your air condtioner.

Specific plan security booths are available with plans and engineering if you need get a building permit. With Calif. HCD certification, these custom designed buildings are guaranteed to conform to the building code and ADA.

Check out our Guard Station Photos page for examples of custom buildings.


The Low Cost Solution To your Space Problems